Climbing with beginners
1- Tips of climbing with children or beginners
Climbing with beginners at the first time is one of the most interesting experiences we normally have, because we can detect immediately who are potential climbers, looking at their "monkey" instinct ! In fact, some children almost act like an experienced climber with some level of concentration, calm, and good doses of equilibrium.
Children are fantastic to see. They remember me those babies swimming perfectly with only one year old. Shell the climbing instinct be with us when we born ? Will we loose it with the age ? I'm sure we will. For those older, like me, (57 years) I recommend to begin immediately and avoid to loose more ability ! ... I'm impoving and doing 6a! ...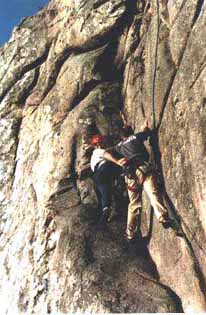 Some parents are normally afraid of having their children climbing because they think is dangerous.
The first thing we do, is to take away this wrong idea by inviting them to climb with us or, if they don't, they must see the climbing activity .
With this method parents can see that, in fact, top rope is extremely secure and teachers are really concerned with security principles.
Teachers must demonstrate know how and confidence because they know their limitations.
In Portugal if you are alone on this sport and want to begin you must look for a climbing course contacting some climbing shops or Associations
2 - Materials


Basic equipment to begin climbing costs about 250 € about the same in USD and consists in :
Harness (Baudrier) - This is like a complete belt that attaches your body to the rope and suspends you comfortably in case of fall. In top rope there is no fall!
You must choose one harness smothly tighten .
In Portugal one Harness ( Baudrier) costs about 90 €
Climbing Shoes. Are a very important part of equipment, because with normal tennis shoes or boots, a climb can be frustrating.
Some low level adherence routes are almost impossible to climb with normal shoes. For good sport practice this shoes must bee very tighten - 2 numbers low or more.
For a beginner, you must choose one slightly tighten but, for children choose the feet number or some slightly larger number. Feet deformations were detected in some climber adults .
Please be careful with this purchase. Climbing shoes in Portugal costs about 70 €
A rope is about 150 €.
Chalk bag - This is a small bag you carry on your back to keep your hands dried to mantain good adherence to the rock. It costs around 15 €
Go to this site to know some climbing terms.
3 - Theory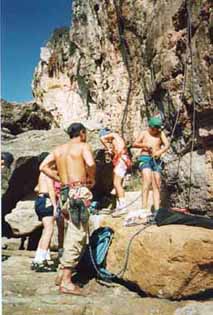 Climbing is one of those sports which requires lots of concentration, calm, body control, balance and, quick movements for each obstacle.
So, it is good for body and psychic health .
We normally climb with some young scouts in Lisbon areas: Cascais, Sintra or Montejunto .
In the right photo you can see José Luis teaching security knots to scouts.
Generally, first teachings are about security and are to keep for all life !
In our scouting team we have done some special analysis with young people, looking to their reaction in the wall and their comments but, mainly in the aspect of how their ego feels, when climbing a route is well succeeded.
This information is passed to parents whose reaction we also register.
We believe this activity will prepare them to be more auto-confident in their future life.
If you have experiences like these, please e-mail us.
---
---
Grading systems for climbing routes for normal non climber person
                                        British      American           Alpine
Characteristics                         Numerical    Yosemite           UIAA

Easy( Like a  vertical stone stair)                  Class1,2           I
Some difficult(Same but  Bad stair)     1a,b,c       Class3             II,III-,III
Difficult (without some steps)          2,a,b        Class5.1, 5.2      III+
Very difficult ( no steps identified)   2c, 3a       Class5.3, 5.4      IV,IV+
Severe  ( Some technic required)        3b, 4a       Class5.5, 5.6      V-,V
Very severe ( Technic required)         4b, 4c       Class5.7, 5.8      V+,VI-
Hardly severe                           5a, 5b       Class5.9, 5.10a,b  VI
Extremely severe (Sport climbers)       5c, 6a,b,c   Class 5.10to 5.11  VII. VIII
Hard extremely severe (Sport climbers)  7a,b,c       Class5,12a to c    IX 
Incredibly hard to do it !              8a,b,c      (Specialized climbers)
Unbelievable to do it !                 9a ... ?     May be 3 in the world ...

There are other systems as the numerical Australian and another American the NCCS.
In Portugal we use the UIAA for low levels, to level IV, and for higher levels we use the British numerical from 5a to 8b ....
Opinion between climbers about routes is sometimes frequent but the discussions are about small differences between 6a or 6b. The general big level diference is normally agreed.
The numerical grades take account of technical difficulty and are usually based on hard movements to do. Levels are also related with loose rock, dangerous fall and so.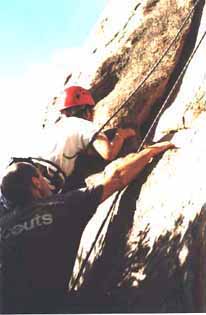 4 - Security
These are some primary rules for beginners security :
1 - Learn the knot to attach your harness to the rope.
2 - If you can get one helmet use it always
3 - Never begin to climb without advising your belayer
4 - Advise your belayer whenever the rope is loose.
5 - Listen to your teacher very attentive . Do not respond him ! ...
---
| Home | |Personal remarks | | Tips for beginners | | Map of Portugal with climbing sites | | Links |
This Site is designed and maintained by Carlos Miranda all rights reserved @ ct4bb.com
---